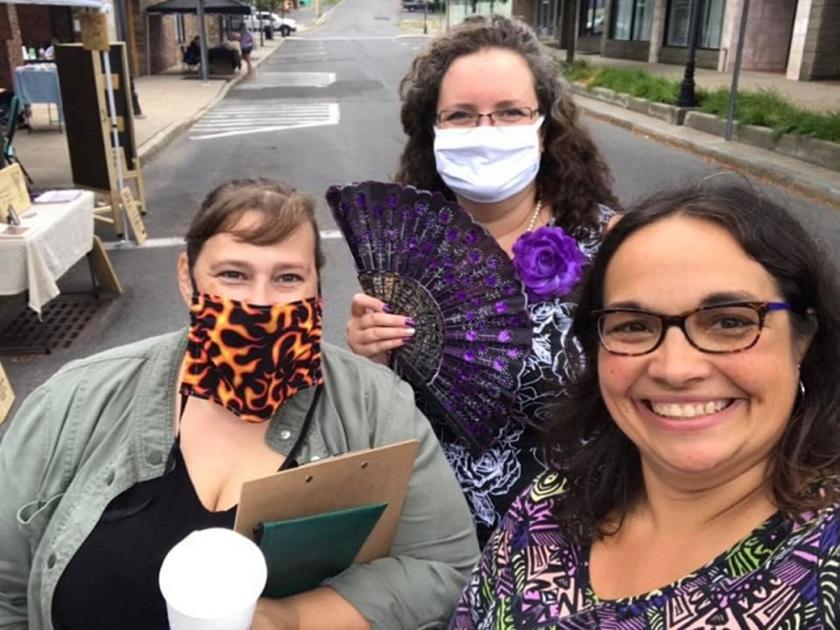 FULTON – After a successful summer Arts Market season, CNY Arts Center has announced a series of arts and craft vendor shows taking place indoors at the Community Arts Center located in downtown Fulton at 121 Cayuga St. The next gathering of artists will be held from 11 a.m.-3 p.m. on Saturday, Oct. 17. The art and craft shows will return monthly throughout the year continuing the opportunities for artists to showcase their original handmade art and goods.
The new kitchen will also be open for lunch and snacks including a variety of classic cookies from Arty's Cookie Jar. The cookie shop is being developed as a culinary arts program to provide a new experience at the Arts Center as well as continuing income for the nonprofit organization impacted by the COVID crisis.
"We had a brief but very good summer with artists set up on the sidewalks outside stretching from the farmers market to the Arts Center one block over," said Nancy Fox, Executive Director. "We are moving the event indoors and partnering with 316 Creative Living to continue the successful gathering of artists, crafters and independent, direct sale entrepreneurs."
Mary Simmons, owner of 316 Creative Living, is lending her event planning talents to organize these events. Half of the proceeds are being shared with a different nonprofit or directed to meet a community need. The October event will benefit '13-30 Cancer Connect' a cancer awareness group new to CNY. The mission of 13thirty Cancer Connect is to help adolescents and young adults (AYAs) impacted by cancer to live their very best lives.
Simmons is assisted by Erin Wood, co-coordinator of the Arts Market program, and Letizia Knapp. Wood also serves as a literary arts program coordinator and Knapp provides critical bookkeeping services for the Arts Center as the co-owner of the new accounting firm, Focused Fiscal Force, located in downtown Fulton.
"Between the three of them, we have a well-organized season of events scheduled," Fox continues. "They are carefully planning for a specific limited number of vendors and assigning volunteers to monitor traffic flow throughout the building. We are paying close attention to CDC and Health department guidelines for a safe event, limiting the risk of exposure with strict attention to a clean and safe environment. Volunteers will be assigned to walk through and clean surfaces every hour as well as assist visitors in following a one-way path through the building to maintain social distancing."
"We are making every effort to provide a healthy, safe, and fun shopping experience for everyone. The COVID crisis has hit artists especially hard. It is difficult to get in front of audiences when there is nowhere to show or sell that art in person," said Fox. "CNY Arts Center is committed to providing those opportunities for artists and the community, to bring the two together in a safe environment."
As an Amazon Associate I earn from qualifying purchases.