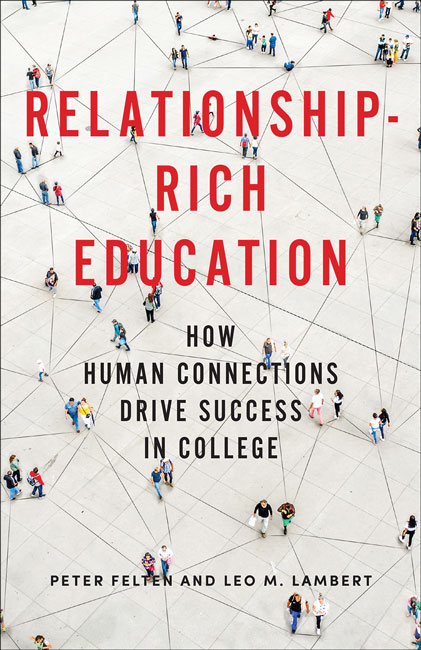 In Relationship-Rich Education: How Human Connections Drive Success in College (Johns Hopkins University Press), Peter Felten and Leo M. Lambert examine the human relationships that make higher education work. The simple act of a professor asking a student how she is doing can have a tremendous impact on the student's success. And the importance of the issue is not just relevant to a small, liberal arts colleges, but to large public universities, community colleges and online institutions. Felten and Lambert interviewed students and faculty members at 29 institutions — colleges of all types — to find out more.
Felten is the executive director of the Center for Engaged Learning, the assistant provost for teaching and learning, and a professor of history at Elon University. Lambert is a professor of education and president emeritus of Elon, where he served as president from 1999 to 2018. They responded via email to questions about the book.
Q: I'd like to start with your postscript on the pandemic. With most education today online (even on campuses in which students are living in residence halls), how can colleges assure that higher education is "relationship rich"?
A: Thinking about higher education this year, we need to fully recognize the depth of the challenges we are facing as individuals and institutions. Yet whether we are teaching face-to-face, online or in some hybrid form, our students are hungry for human connections. So many smart colleagues we admire have adopted "pandemic pedagogies," intentionally integrating course content and critical attention to student well-being. That's relationship-rich education. Active learning pedagogies also provide many opportunities for peer-to-peer interactions, making a huge difference for students to learn and to feel they belong, even on Zoom. And we cannot forget the heroic staff at colleges and universities — in advising and tutoring offices, campus dining, residence halls, student centers, and more — who have supportive and affirming conversations with students every day.
Our sense is that students (and faculty and staff) very clearly understand what they are missing during the pandemic — the human interactions that are at the heart of the college experience — and many vow they will never take that for granted again. We hope that is so.
Q: You included Southern New Hampshire University in your book — most of its programs are online. What are the key factors to making this work online (when planned as opposed to the sudden shifts we've seen at many colleges)?
A: SNHU employs both academic advisers and writing coaches to assist students in navigating their online studies through regular telephone conversations. A particular writing coach, for instance, might work with a student over several years in multiple different courses, building a strong relationship. In our research interviews, we heard from SNHU students how much it mattered when a writing coach would begin a phone call by asking, "Hey, how did your daughter's ballet recital go?" These conversations underscore the power of the human voice to offer encouragement, express empathy and build meaningful relationships. That's what President Paul LeBlanc calls SNHU's "secret sauce."
We cite writing coach Kayleigh Guzel in our book. She says it is her job to "be the human" in an online space where students often feel lost in the cloud, disconnected from both the faculty and the other students in their courses. Making these kinds of human linkages with our students and colleagues is the most important responsibility for all of us this year. The stories we heard from SNHU students, staff and faculty illustrate the importance of human connection to learning, even in online environments.
Q: You write repeatedly of the faculty, and the importance of supporting faculty. Today, we see lots of colleges laying off faculty and questioning their rights. What do you think of this disconnect?
A: We emphasize the centrality of faculty because the classroom is still the most important place for seeding meaningful relationships with students — and especially first-year students. Faculty are the primary actors in higher education who can disrupt transactional approaches to college ("What do I need to do to get a B in your course?") and who can create more transformational learning opportunities for students ("How can I apply what I am learning in the class to make the world better for others, not just myself?"). Faculty inspire learning, which is the heart of higher education, and that inspiration in turn forges many of the most meaningful relationships that students will carry with them for decades after they graduate.
We also need to prioritize educationally purposeful relationships in our faculty reward systems much more highly. Elon University, for instance, employs the "teacher-scholar-mentor" model of faculty work. If the critical work of supporting and mentoring students is not one of the "buckets" that promotion and tenure committees are considering, then we are not valuing an essential aspect of education and faculty work. Period.
Finally, contingent faculty are foundational to relationship-rich education. You don't need to be on the tenure track to be serious about building meaningful connections with students, although too many contingent faculty receive little institutional backing or recognition for their work. In the book, we highlight institutions like Patrick Henry Community College, in Virginia, that have taken common-sense, low-cost yet highly effective approaches to supporting contingent faculty. Giving adjuncts spaces to meet with students before and after class, providing basic information about key services (like where the student food pantry is), and forging collegial connections with full-time faculty make a huge difference. As we note throughout the book, intentionality and thoughtfulness go a long way in creating a relationship-rich campus culture.
Q: What are the best ways to promote relationship-rich higher education?
A: First of all, we believe that most institutions do not need to create a half a dozen new mentoring programs on campus! Most of our institutions already have existing programs that could be bolstered and woven together to better support students. The answer rarely is a new program.
Instead, the most important work is cultivating a relationship-rich campus culture, which is fostered by small daily acts by many people across the institution. At every one of the two dozen diverse colleges and universities we visited for our research, students told us how powerful it was when they were asked a simple question — "How are you?" — and then someone took the time to listen generously to what they had to say.
For example, faculty at Oakton Community College developed the Persistence Project, a simple but powerful initiative in which faculty commit to taking four steps in at least one of their courses: 1) learn and use students' names; 2) have an individual, 10- to 15-minute conversation with each student in their class early in the semester to learn about students' goals for the course; 3) give students formative feedback early in the semester; and 4) express high (but not impossible) expectations for students paired with resources to support student success (such as writing and tutoring centers). The Persistence Project has significant results for students, particularly for students of color — and Oakton faculty also told us about how it enhanced their sense of purpose in their work. Getting to know your students can be transformative.
We were also inspired by the words of Steve Grande, director of service learning at James Madison University, who told us that every day he tries to "raise his consciousness" about how much his words matter to students, even in short conversations in the hallway or on Zoom. We all have the potential to make our campuses relationship rich. But we have to commit to tapping that potential every day and with all of our students.
Q: When the pandemic is over, do you think higher education will embrace this model?
A: The world is never going to go back to the way it was in 2019. Higher education will be reshaped by this pandemic. Online and hybrid approaches to teaching and learning will evolve and will be more deeply incorporated into the mainstream. Institutions that figure out new ways to blend face-to-face and online learning, and to integrate the curriculum with experiential high-impact practices and residential campus experiences, will create powerful new models of undergraduate education. We believe this requires putting meaningful student-faculty, student-staff and student-student relationships at the center of education. So, yes, we believe the future is relationship rich!