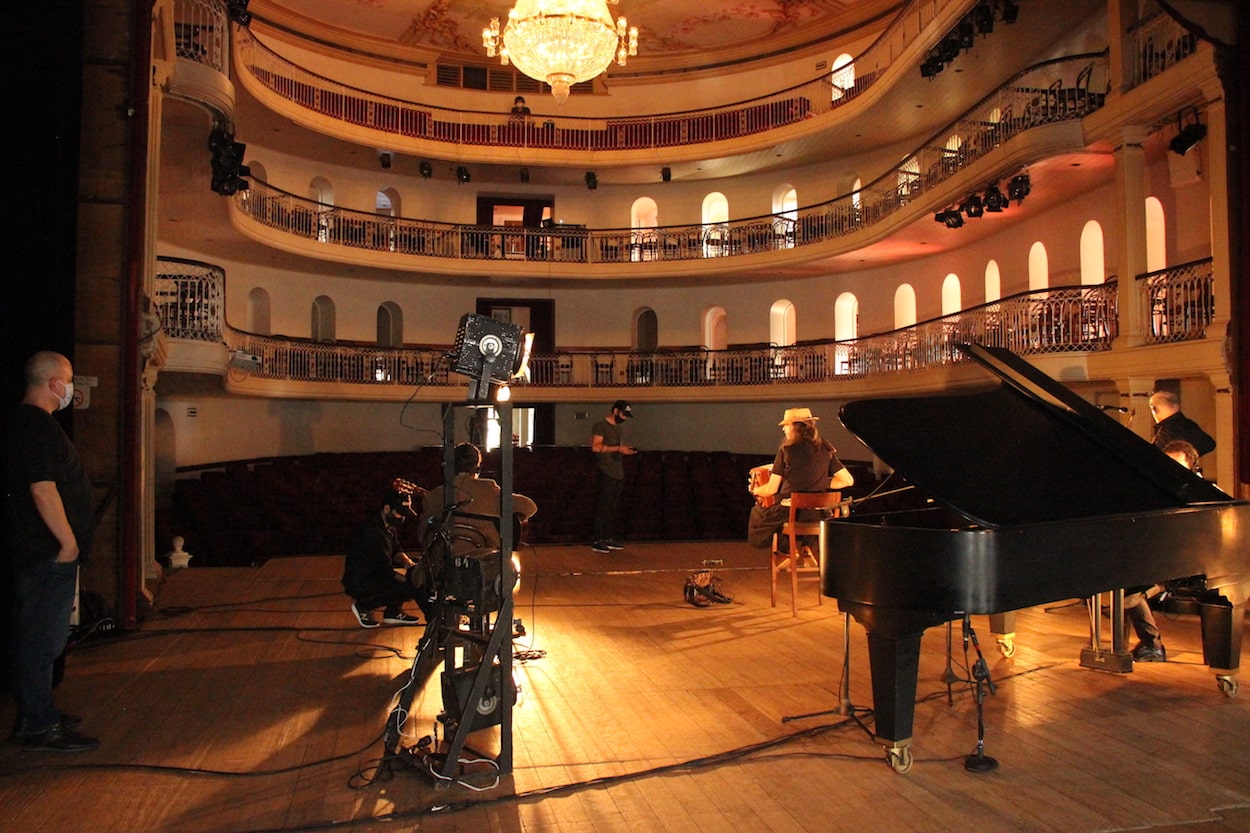 The 2020–2021 season of the MetLife Foundation Music of the Americas Concert Series will open on October 16. The Fall series will feature five productions prepared specifically to be shared online. The videos will be available starting on the dates below and will remain online for later viewing. 
Americas Society members will be invited to join the artists for a virtual reception immediately after the premieres.  Email membership@as-coa.org to join the receptions or learn about membership.
The season will feature remarkable gaúcho musicians Renato Borghetti Quartet (October 16) and Yamandu Costa in a solo concert (November 21), two new music concerts including Americas Society's production of the chamber opera Kopernikus by Canadian composer Claude Vivier (October 29), a concert by counter)induction in a program of music by Latin American female composers (December 17), and an online version of our traditional concert of opera favorites by singers from the Instituto Superior de Arte del Teatro Colón (December 4).  
Since the start of the pandemic, Music of the Americas has been producing and sharing videos created specifically to be enjoyed online, and we look forward to releasing these programs throughout the season.  
Friday, October 16, 7 p.m.
Renato Borghetti Quartet
The Renato Borghetti Quartet makes their Music of the Americas debut with their explosive mix of gaúcho musical styles with flamenco, Brazilian pop, and jazz. The quartet recorded a program live in Porto Alegre's historic Theatro São Pedro.  
Thursday, October 29, 7 p.m.
Kopernikus Online 
Argentine artist Sergio Policicchio prepared an online version of his production of Vivier's only opera, which Americas Society's ensemble Meridionalis premiered in 2018 in Buenos Aires. The music in this version is a live recording from the 2019 NYC premiere of the production with the International Contemporary Ensemble.
Saturday, November 21, 3 p.m.
Yamandú Costa: Solo 
Brazilian superstar guitarist Yamandú Costa makes his Music of the Americas debut with a show recorded in his studio in Lisbon, which showcases his virtuosic abilities as a performer and composer on the 7-string guitar.
Friday, December 4, 7 p.m.
Opera En Casa
Each fall, Music of the Americas presents a group of exceptionally talented young singers from the Instituto Superior de Arte del Teatro Colón in a program of opera favorites. This year's iteration is reimagined for an online audience by stage director Mariana Ciolfi and music director Marcelo Ayub.  
Thursday, December 17, 7 p.m.
counter)induction: nueva música 
Renowned for virtuosic performances and daring programming, the composer-performer collective counter)induction returns to Music of the Americas with a vibrant program of pieces by Latin American women composers, featuring world premieres by Gabriela Areal, Marina Lopez, and Mariana Villanueva Conroy and new arrangements prepared just for this concert. 
The MetLife Foundation Music of the Americas Concert Series is made possible by the generous support of Presenting Sponsor MetLife Foundation. The Fall 2020 Music program is also supported, in part, by public funds from the New York City Department of Cultural Affairs in partnership with the City Council. Additional support from the Consulate General of Brazil in New York, the Amphion Foundation, and Alejandro Cordero.