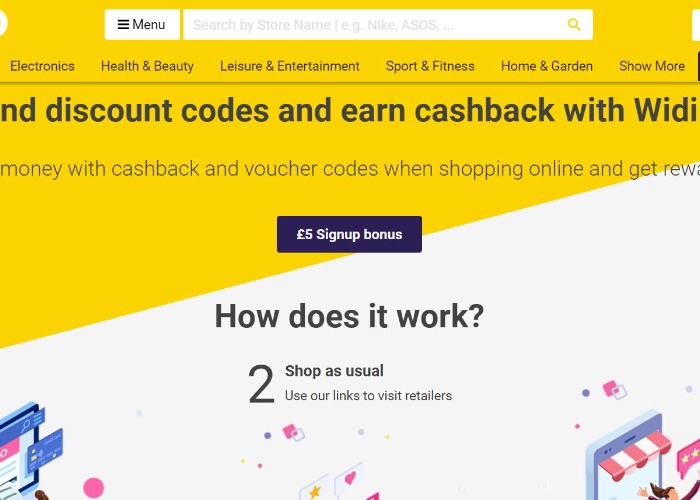 Looking to save money all year round? Want to get the best discount codes and promotions? Widilo are here to help!
Widilo is an amazing cashback site with a difference.
It rewards members every time they make a purchase via their loyalty points programme for WIP members (Widilo Important Person).
With hundreds of your favourite stores, you can save money on pretty much anything.
From energy bills, gym memberships, to your weekly food shop, or even a new stylish outfit, never spend a penny more than you have to – especially If you're on a budget this Autumn or Winter.
Save money with discount codes from Widilo
Free and easy to use, Widilo is certainly one of the most popular and fastest-growing cashback sites today.
Essentially, every time you visit your favourite online shops through Widilo, retailers pay them a commission on your order.
Widilo will then share that commission with you.
It really is that simple!
And when you sign up to join for free you instantly get a £5 cashback bonus from Widilo.
You can then proceed to shop at your favourite retailers, save money and earn cashback.
For example, you see an offer at Microsoft store on Widilo for a laptop that's been reduced by 50%, from £200 to £100.
Widilo offers you up to 7% cashback if you purchase online through them.
Essentially, you will only be paying only £93 as you get £7 cashback.
This means Widilo can always help you save more money on your online purchases!
With Black Friday sales around the corner, there will be savings aplenty that you simply can't ignore.
Find savings on hundreds of different brands
There are fantastic discounts and savings at hundreds of big brands when you shop online through Widilo.
You can save on pretty much anything and everything.
If you want to save money on household bills, then Widilo will provide you deals, offers and cashback at the likes of BT, Vodafone and Sky.
If you want to find discounts and savings on your next food shop, then Widilo currently offers cashback at popular shops such as Morrisons and Iceland.
Perhaps you want to budget better in 2020, Widilo can help you save up to £50 at the likes of Azimo and Monese so you can have peace of mind when you're budgeting your holiday or shopping spree.
With Widilo you will be able to find a great selection of brands for a price that doesn't exceed your budget.
You never have to spend more than you should, and Widilo understands that.
Save as much money as possible on your next online order by clicking onto a deal provided to you by Widilo and remember to activate your cashback with the Widilo Browser Extension.
Get additional perks when you become a member!
Members can save up enough points to win anything from a £50 amazon gift card to a MacBook Pro!
Sign up today to instantly receive a £5 cashback bonus and earn up to £6 every time you refer a friend.
Yes, you can seriously earn money by referring your friends to join and save with you at Widilo.
All you have to do is share your unique referral code via email or social media and, once they make their first confirmed cashback, you'll get up to £6.
Get money-saving tips & promo codes on the Widilo Blog
Whatever you're looking to buy, you should take a look at the Widilo Blog first.
Here you can find expertise on everything from seasonal deals, product reviews, gift guides and more if you're looking for more fantastic deals and savings.
Widilo can help you enjoy your online shopping experience.
Whether you're buying presents for a loved one, or trying to cut down on household bills, save more and spend less today with Widilo.
This is a paid promotion by Widilo. The views expressed in this advertorial do not necessarily reflect those of loveMONEY.